Microsoft Windows Server Workshop
About Course
From designing and implementing Windows Server environments to configuring and managing them, we can help you gain the skills you need to support your business and prepare for your MCSA certification. In our Windows Server training, you will learn how to provide more secure access to data and remotely manage your Windows-based servers. Whether you are using Windows Server 2019, 2016, 2012 or 2008.
What Will I Learn?
Install and configure Windows Server 2016
Storage in Windows Server 2016
Implement directory services
Implement Active Directory Federation Services (AD FS)
Networking
Implement Hyper-V
Configure advanced networking features
Implement software-defined networking
Implement remote access
Deploy and manage Windows and Hyper-V containers
Implement failover clustering
Implement failover clustering by using virtual machines
Active Directory and DNS
Primary domain using Server 2008
4:32
Secondary domain using Server 2016
Active Directory quiz
Managing Active Directory Objects
Advanced Storage Solutions and File Server
Virtualization, Nano Server, Replication and Live Migration
Encryption using Certificate, ADRMs and Bitlocker Drive Encryption
Failover Cluster and Load Balancing
Supporting Remote Users by VPN and RDP
About the instructors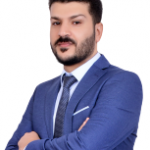 System administrator | Microsoft Trainer
System administrator with years (+10) of experience of designing and managing infrastructure solutions and Microsoft MCT since 2013. focusing on a variety of Microsoft technologies including MS Servers, Active Directory, Exchange Servers, MS Azure, Microsoft 365, System Center family and Business Continuity.